SaaS Maker 2.0 Release Makes it Easier for Software Developers to Sell Applications in the Cloud
New Developer's Console Unites PaaS and Brokerage Capabilities Under One Roof for Building Business Applications Using Disparate Cloud Services from Multiple Vendors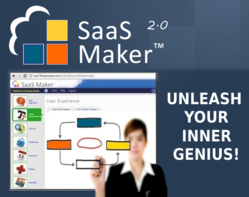 The software industry is on the brink of a new age of innovation fueled by entrepreneurship
Reston, VA (PRWEB) May 09, 2013
Virtual Global announced the immediate release ofSaaS Maker 2.0, a major upgrade to its unified platform for software developers, entrepreneurs and innovators to build, migrate and integrate cloud services into meaningful business applications. The new version includes a Developer's Console, enhanced application designer, a high-performance .Net SDK and a "Gizmo exchange" for sharing and integrating cloud services. As always, the platform exposes an open API and is portable across data centers.
"Using SaaS Maker, developers can build, deploy and sell SaaS applications with zero upfront investment, in sharp contrast to the venture backing or project funding that was required a few years ago," says Cary Landis, Virtual Global CEO. The demand for SaaS applications is expected to rise sharply over the next several years. According to Gartner, the SaaS market will reach $22.1 billion by 2015. At the same time, the cloud brokerage market is expected to reach $100 billion by next year. Landis suggests that SaaS development and brokeraged cloud services should go hand-in-hand.
"Software developers want to do both things: Build applications and integrate cloud services, so we're simply making it easier for developers to do both things in one place," says Landis. According to Landis, PaaS technology lowers barriers-to-entry and allows more developers to freely participate, inevitably shaking up the software development industry. The mega-million-dollar implementations of enterprise-class software, which suffered from a high failure rate as well as an untenable cost structure, are rapidly being replaced by a new as-a-service model. This model not only changes the underlying economics and operational structure of large enterprise users, it also brings in SMBs which previously were shut out of the market. As a result, the software industry is on the brink of a new age of innovation fueled by entrepreneurship, worldwide participation, and a transition toward the 'as a service' delivery model.
The SaaS Maker 2.0 upgrade implements a new business model for developers to sell their applications. "We hear stories about the teenager who sold his mobile app to Yahoo for $30 million, and we want to give cloud developers the same opportunities as mobile developers," added Landis. Instead of charging developers upfront, SaaS Maker implements a revenue share model when applications are successfully deployed into operational environments.
About Virtual Global Headquartered in Morgantown, WV with a Reston Virginia presence, Virtual Global specializes in PaaS engineering and SaaS development. The company's flagship product is the SaaS Maker™ Platform as a Service (PaaS) for building, deploying and selling business applications on the cloud in less time and costs as compared to traditional programming. Virtual Global licenses its technologies to software development companies and data centers seeking rapid entry into the cloud computing market. For more information visithttp://www.virtualglobal.com.